Free Report
Getting Your Retirement Right
---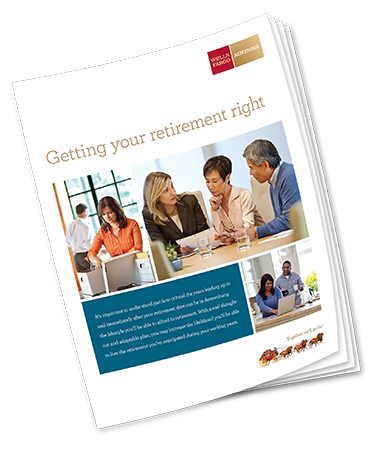 Importance of the Years Surrounding Your Retirement Date | Historical data shows that if you're investing for retirement, what happens in the markets in the years leading up to and immediately after you stop working tends to have a greater impact than what goes on in other years. In other words, a bear market in your sixties is likely to have a greater effect on whether you'll live the retirement you planned than a market downturn in your forties.
Wells Fargo Advisors' "Getting Your Retirement Right" report covers strategies to help ensure your money will last – regardless of what happens during this crucial period. Key points covered include:
Why this period tends to be more significant than others




The imporatance of managing risk during this period




The role expense management can play in helping your savings last




Why to diversify your retirement income sources




The potential value of having a flexible spending strategy




Hints for constructing your portfolio in retirement
Get This Critical Information | Whether your retirement is fast-approaching or still years away, planning decisions you make now may have a significant impact on your future. This report covers information everyone who plans to retire should know.
---
Click here to request a FREE copy of this report.
---
Diversification does not guarantee profit or protect against loss in declining markets. Asset allocation cannot eliminate the risk of fluctuating prices and uncertain returns.
By submitting this request, you agree that the information you provide may be used by one of our associates from Wells Fargo Advisors to contact you about Wells Fargo Advisors' investment products and services. In addition, if you have other Wells Fargo products or services, you agree that Wells Fargo Advisors may share this information with those other Wells Fargo businesses or entities. Please review our privacy policy.