Our Wealth Management Process
---


Discovery
We gain a thorough understanding of your situation and answer any questions about our group and process.


Envision® Plan
Envision enables us to assist you in prioritizing your most important financial goals, and customize a plan designed to achieve them.


Investment Portfolio Review
We present our recommended investment strategy – including appropriate risk level, fees, historical net performance – and compare it to your existing portfolio.


Plan Implementation
Our team carefully transitions assets into the agreed upon plan, taking into account tax ramifications, strategies for concentrated positions, holdings you prefer to maintain, and current market conditions.


Ongoing Plan Scrutiny and Client Communication
We closely monitor performance to help ensure the plan remains on track, and we regularly communicate with you, including face-to-face plan and portfolio reviews.
---
Envision Planning Helps You Stay on Track
Our disciplined Envision plan maps a customized course designed to help you prioritize and accomplish your most important financial goals through various life stages. To learn more, click here to view our complete Envision brochure.
Using advanced technology, Envision carefully considers a number of critical variables, such as:
• Risk tolerance

• Time horizon

• Inflation

• Social Security

• Medical costs

• Investment performance

• Targeted retirement date,
and income needs thereafter
Envision produces a personalized benchmark called "the dot," which allows us to monitor progress toward achieving your objectives, and adjust your plan should life or market changes warrant it. You can see "the dot" online and on your statements, providing an ongoing metric and immediately answering the most critical financial question: "Am I on track?"
| | |
| --- | --- |
| 94% of Envision plan holders agree their plan helps them stay focused on their retirement goals.* | 91% of Envision plan holders agree their plan helps them weather market volatility.* |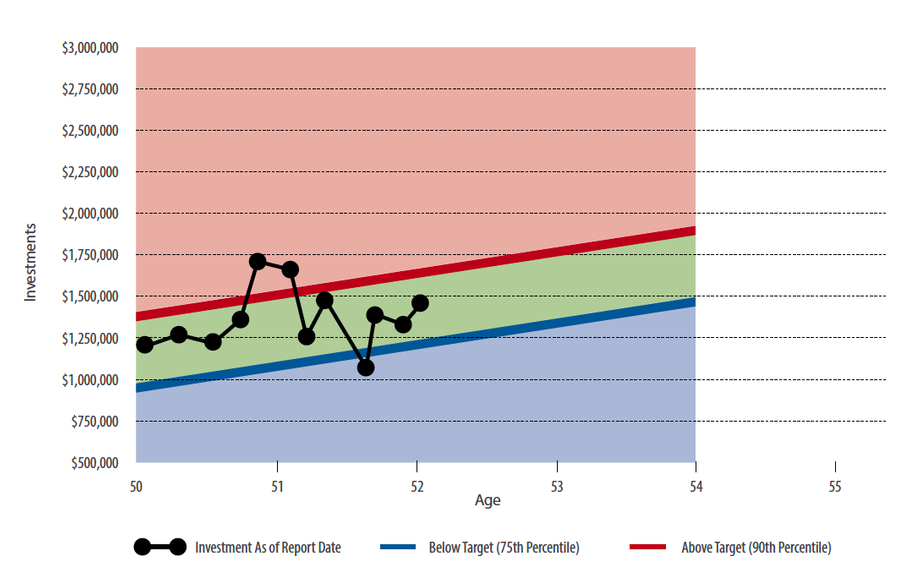 IMPORTANT: The projections or other information generated by the Envision tool regarding the likelihood of various investment outcomes are hypothetical in nature, do not reflect actual investment results and are not guarantees of future results. Results may vary with each use and over time.
ENVISION METHODOLOGY: Based on accepted statistical methods, the Envision tool uses a simulation model to test your ideal, acceptable, and recommended investment plans. The simulation model uses assumptions about inflation, financial market returns, and the relationships among these variables. These assumptions were derived from analysis of historical data. Using Monte Carlo simulation, the Envision tool simulates 1,000 different potential outcomes over a lifetime of investing varying historical risk, return, and correlation amongst the assets. Some of these scenarios will assume strong financial market returns, similar to the best periods of history for investors. Others will be similar to the worst periods in investing history. Most scenarios will fall somewhere in between. Elements of the Envision presentations and simulation results are under license from Wealthcare Capital Management, LLC. © 2005 - 2016 Wealthcare Capital Management, LLC. All Rights Reserved. Wealthcare Capital Management, LLC is a separate entity and is not directly affiliated with Wells Fargo Advisors.
*Results are based on a survey conducted online by Versta Research from July - August 2016, among 762 investors with Financial Advisor relationships. Results are not representative of other client experiences or indicative of future success or performance. The Envision process is a brokerage service provided by Wells Fargo Advisors.